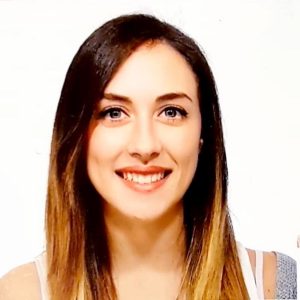 1. Please tell us a little about yourself. Where are you from and what is your research background?
I come from Naples (Italy)- being as humble as I could but we created the first slice of pizza J- I had my early education there and later received my degree (both bachelor's and master's) in chemical engineering from Università Degli Studi di Napoli Federico II. Even if the university is not the most equipped one, it allowed me to work with loads of brilliant and successful professors who taught me a lot both professionally and personally. Moreover, in my last year, I won a scholarship for the research stay at The Max Plank Institute of Colloids and Interfaces in Potsdam, Germany, for six months. There, I had the opportunity not only to collaborate with amazing people but also to experience working in one of the greatest research centers in Europe.
2. Tell us briefly about the research project you have been doing as a Marie Curie Fellow?
My job as a Marie Curie Fellow consists of investigating the robustness, detection, and amplification of optical biosensors. Basically, we try to model novel sensors that will only use sustainable and bio-degradable resources such as enzymes, natural polymers, and indicators. The applications are vast – pharmaceutical and food industry, biomedical, forensic, wastewater management…
3. Why did you choose to apply for this particular project?
People have always told me about how prestigious, selective, and high level a Marie Curie Fellowship is, so I think it comes quite as a personal challenge to apply for one of them. What fascinated me about this project was the novelty and difficulty of it, requiring 15 students to work on semi-individual projects and then eventually finding out that all together they were creating something even bigger. However, the two main reasons are beyond the scientific part of the project – I liked the multicultural and international environment that could allow me to expand my limits and open my mind; and secondarily, the purpose of the project to bridge academia and industry, which is something very required nowadays.
4. As a researcher, which goals and ambitions do you have for your future career?
I have always enjoyed researching therefore my ambition for the future would be to continue to do so. Especially in the engineering field, there are a lot of new and exciting possibilities that are being explored and I hope I can be part of those one day. My goal will be to give my contribution to bridging the gap between academia and industry which I think will advantage both worlds.
5. Who is your favorite scientist?
I know it is going to seem biased but since I was a little girl in middle school just approaching science my favourite scientist has always been Marie Skłodowska Curie. She was famished with knowledge, curious, ready to deal with being in a disadvantaged family situation, and a young smart girl in a male-dominated world. She was ambitious, brave and never stopped believing in herself even when nobody did and eventually she proved herself. Besides the great scientific achievements she reached in her life, I admire her as a human being on a personal level because people like that come to this world once in a while and all we can do is look up to them and get inspired.
6. What was your first impression when you arrived in your host country?
I already had great expectations about the UK and honestly when I first arrived in Sheffield were not disappointed. My supervisor gave me all the support I needed to settle up, the people at the university were very welcoming and helpful and even strangers in the streets were nice and sweet to me without even knowing me. It felt kind of at home since the first time I arrived here.
7. Why is your project important for society?
Sensors are part of our daily life, regularly and we don't even notice them. They help with diseases detection (diabetes), food quality control, wastewater management, recovery, etc… Improving them, making them more biocompatible and cost-effective would be a huge step forward in many different ways. This research is not just a project but it could practically and truly be useful to people out there.
8. Marie Curie fellowship requires a lot of travels, why mobility is important for research?
I believe that being in contact with people coming from other parts of the world who thinks differently from you, have studied differently, could enrich your mind, let you think outside your usual box. Same regarding hosting universities or industries. The thing doesn't only apply to the professional field but also to the personal one – the soft skills you can develop, the networking, the exchange of culture and information.
9. How did you find your passion for chemistry?
It started during high school thanks to my chemistry professor, she was able to transmit to us how powerful and amazing and perfect chemistry is. She showed us that yes, it can be complicated but also it surrounds us, even in the smallest things. Chemistry is everywhere, even inside us, in what we think and feel.
10. Do you have any advice for other young researchers who are considering applying for a Marie Curie fellowship?
Do it! If you have the chance just apply. It is going to be worth it – leave your comfort zone, challenge yourself. You are going to travel a lot, meet new people and make new experiences. You will work with a network of brilliant professors and amazing hosting facilities. And maybe it is not going to be easy every day- being far away from home and friends can be hard but there will be a new you at the end of the path and that is just priceless.