This European Training Network (ETN) entitled "Chemical Reaction Networks: Signal amplification, spatiotemporal control, and materials" (CReaNet) will train 15 bright early-stage researchers (ESRs) on the emerging topic of chemical reaction networks (CRNs) that is currently lacking in the university curricula.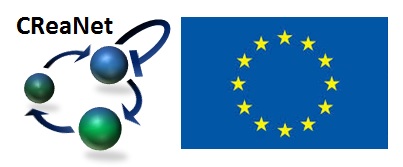 The long-term scientific goal of CReaNet is to develop biocompatible Chemical Reaction Networks (CRNs) for signal amplification and novel (bio)materials.
Early Stage Researcher (PhD) projects
WORKPACKAGE 1: CRNs for ultrasensitive amplification.
Sensitive detection of biotics (e.g., viruses, proteins, antibodies, DNA, and RNA) or controlled substances (i.e., drugs or explosives) is of key importance in research, industry, and public safety. Direct detection using chromatographic techniques (e.g. LC-MS or GC-MS, liquid/gas chromatography coupled to mass spectrometry) is increasingly possible at medium to low analyte concentrations, but this approach is not feasible for trace amounts. To this end, indirect detection is used, relying on amplification techniques, where a trace amount of analyte induces an increase in a second (easily detectable) molecule. The most prolific of the indirect biotic detection methods are immunoassays (e.g., ELISA, fluorescence, colorimetric, etc.). The ELISA assay leads to a linear increase in output signal (i.e., colour). However, boosting sensitivity requires finding pathways going from linear to non-linear processes. Other methods such as exponential rolling circle amplification (a special DNA-PCR polymerase chain reaction method) and other well-designed CRNs can lead to amplification processes beyond linearity. In this WP, we use different experimental and theory approaches to achieve non-linear amplification using CRNs. We make use of instabilities arising from non-linear kinetics, or by using cascades of chemical reactions.
WORKPACKAGE 2: Spatiotemporal control over CRNs.
Nature manages to get exquisite control over the location where CRNs can operate. For example, during cell division the Min system localises the exact center of the cell, using a reaction–diffusion process.[1] More generally, the patterns seen in animal prints can be traced back to reaction–diffusion instabilities of promotors and inhibitors.[2] In addition to passive transport, active (cilia-driven) fluid flows coupled with signalling give rise to the left-right organisation of internal organs (i.e., the heart on the left side).[3] In this WP2 we explore a range of spatiotemporal implementations of CRNs using compartmentalisation, passive/active transport within those compartments, and localised surface chemistries. In this way, we can engineer instabilities that arise from reaction–diffusion/advection. The goal of WP2 is to achieve spatiotemporal control over CRNs to mimic signalling, and to turn CRNs on/off in well-defined locations and times.
[1] Loose, M.; Fischer-Friedrich, E.; Ries, J.; Kruse, K.; Schwille, P. Science 2008, 320 , 789.
[2] Turing, A. M. Philos. Trans. R. Soc. B Biol. Sci. 1952, 237, 37.
[3] Sampaio, P.; Ferreira, R. R.; Guerrero, A.; Pintado, P.; et al. Dev. Cell 2014, 29, 716.
WORKPACKAGE 3: Materials based on CRNs
CRNs hold great promise for autonomous, dynamic and adaptive materials—beyond what state-of-the-art responsive materials can offer. This consortium has already pioneered several approaches to, e.g., encode hydrogels with tunable lifetimes.[1] Progress in this direction relies critically on finding advanced pathways for modulating internal and external feedback mechanisms to pre-orchestrate events in time and to find pathways to adaptation to outside signals. Additionally, biocompatible fuels are strongly needed to come to more benign systems and to be able to interface such autonomously dynamic and adaptive materials with the biological world. Advanced feedback systems beyond simple non-linear chemical activation and deactivation process included chemo-mechanical (or, more generally, structural) feedback mechanism, which have proven very difficult to implement. One example is a chemo-mechanochemical feedback system, where catalyst-bearing micro-posts heat up due to a chemical reaction and in response bend, which removes them from the reagent solution, thus stopping the heating process.[2] In another example, a pH-responsive hydrogel with the (proton-autoactivated) bromo-sulphite reaction was used.[3] The latter approach resulted in gel-oscillations in which the dynamics came from the feedback of the shape of the gel and internal pH gradients, and not just from the chemical dynamics. The (chemo)mechanochemical feedback is arguably the most complicated way to introduce instabilities in a CRN, but it can lead to more life-like properties of artificial biomaterials. The goal of WP3 is to systematically explore the coupling of CRNs and materials, mainly by using self-assembled materials that can be controlled by a CRN, or by engineering feedback due to swelling / shrinking of responsive materials.
[1] Heinen, L.; Walther, A. Soft Matter 2015, 11, 7857.
[2] He, X. et al., Nature 2012, 487, 214-218.
[3] Horváth, J., Szalai, I., Boissonade, J. & Kepper, P. D. Soft Matter 2011, 7, 8462-8472.