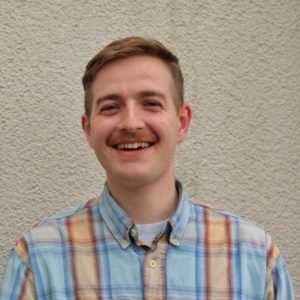 1. Please tell us a little about yourself. Where are you from and what is your research background?
I was born and raised near Lago Maggiore in northern Italy. I completed my undergraduate and master's studies at Lancaster University, where I wrote my thesis on the microfluidic manufacture of liquid crystal elastomer microbeads.
2. Tell us briefly about the research project you have been doing as a Marie Curie Fellow?
My research project draws from a few different areas of chemistry. I work in the lab of Prof. Dr. Andreas Walther, on generating actuating hydrogel devices, with a view to implementing them in soft robotics. To control these devices, I employ chemical reaction networks based on enzymatic feedback systems or transient small-molecule fuelling.
3. Why did you choose to apply for this particular project?
I had heard about the work carried out in my current supervisor's lab, and after reading about it I was fascinated. The interdisciplinary nature of the project was a real draw for me, as was the opportunity to be part of an EU Innovation Training Network.   
4. As a researcher, which goals and ambitions do you have for your future career?
There are many challenges facing society, and science can help solve, or at least alleviate, a great number of those. I hope that the skills I've learned as a part of CReaNet would allow me to make my contribution to solving these scientific challenges, however big or small that may be.
5. Who is your favorite scientist?
This might seem like a strange answer, as he's not known for his chemistry work, but I would say Richard Feynman. His approach to solving complex problems by thinking of the basics, and applying lessons he learned from forays in other fields is what every researcher working on interdisciplinary questions should aspire to.
6. What was your first impression when you arrived in your host country?
Other than a few short trips, I had never been to Germany before arriving to start my Ph.D., so what struck me was how not so different it was to either Italy or the UK, and how it was very easy to settle in. I can say I really feel at home here.
7. Why is your project important for society?
Soft robotics is a rapidly expanding field with many possible use-cases, but the one I find could be most impactful is in automated devices for biomedical purposes. This is where controlling them with chemical reaction networks could be a great step forward. Materials capable of adapting autonomously to chemical queues in their environment could change the way we currently approach a lot of treatments.
8. Marie Curie fellowship requires a lot of travels, why mobility is important for research?
Sharing ideas, skills and results is the basis of how science manages to move forward. Having the opportunity to meet and work with other researchers is crucial for building up both personal skills and experience and having a network to share ideas and collaborate with.
9. How did you find your passion for chemistry?
I've always been interested in science, I would say. My passion for chemistry was definitely sparked in high school though. I had a brilliantly knowledgeable and dedicated teacher, and he really helped nurture my interest in the topic. Alongside the school's lab tech, he organized a little extra practical class. Carrying out my own experiments confirmed that chemistry was a career I wanted to pursue.
10. Do you have any advice for other young researchers who are considering applying for a Marie Curie fellowship?
I'm very proud to be a part of CReaNet, and grateful for the talented researchers I've met and the opportunities this has given me. My advice for anyone thinking of applying would be to absolutely apply, I think it's hard to find a better opportunity!