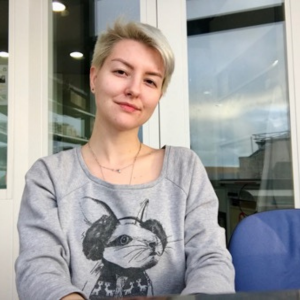 1. Please tell us a little about yourself. Where are you from and what is your research background?
My name is Anastasiia and I am from Kyiv, Ukraine. I obtained a B. Sc. degree in Chemistry from the Taras Shevchenko National University of Kyiv, and an M.Sc. degree both from the Taras Shevchenko University and the University of Strasbourg, France. My background is in coordination chemistry, physical chemistry, and materials.
2. Tell us briefly about the research project you have been doing as a Marie Curie Fellow?
In the group of Prof. Hemans, I am working on the development of the out-of-equilibrium system that allows a temporally controlled formation of cyclic peptide nanotubes. These nanotubes can have different properties depending on the design of the peptide itself, which is relatively easy to tailor. The goal of my project is to create a chemical reaction network that controls the formation, lifetime, and decomposition of nanotubes. It will simplify their utilization in further applications and contribute to a better understanding of reaction networks in practice.
3. Why did you choose to apply for this particular project?
Overall, I have always seen myself working at the intersection of chemistry, biology, and physics. During my master studies, I had been more focused on physical chemistry which later helped me to realize that I would like to do a Ph.D. in this field. At that time in our group, there were Ph.D. students who were working on extremely complex systems involving enzymatic networks and photochemistry. Observing their challenging work, which required a very broad set of skills and knowledge, inspired me to go for a similar project. I felt that I will learn a lot and wanted to contribute with ideas influenced by my quite different background.
4. As a researcher, which goals and ambitions do you have for your future career?
Since I started studying chemistry I have been always fluctuating between possible options: becoming a professor, an industrial researcher, a material scientist, a bioengineer, and many other careers, —almost every path seemed attractive and super interesting. The Marie Curie network gave me an insightful opportunity to meet people with very different chemistry professions. Recently, I guess, my choice finally started to crystallize. I would like to try myself in R&D companies and industry, working in a team of people that are searching for solutions to the immediate problems: what innovations will improve properties of a material without compromising safety, how to optimize the process of production, make it environmentally friendlier, more sustainable, and efficient.
5. Who is your favorite scientist?
The more time I spend in research the more I realize that my favorite scientist is everyone who strives in the first place for a better understanding of nature, processes, and principles that create and support the world we are living in, and not for the growth of their personal ego, and fame; who is honest with themselves and with other people about the motivations and implications of the research; who is able to maintain the highest standards of research culture without being toxic, contemptuous, and ignorant; who can remain sane trying to do all of this as much as they can in our success- and profit-centered overachieving society.
6. What was your first impression when you arrived in your host country?
I have been to France before on holiday but to a different part of the country. When I first arrived in Strasbourg I was impressed by how joyful and open-minded people are, if you had any questions someone would always help you, so you rarely feel totally lost. Strasbourg is not a big city, but very lively, comfortable, and beautiful, a must-visit if you are traveling in France. Also, I remember, I was (and sometimes still am a bit) scared to practice the French language in everyday life as I thought people would just laugh and not reply, but soon immersion into the culture, people's understanding and encouragement even in trivial situations like at the grocery stores helped me to advance quite fast.
7. Why is your project important for society?
We are currently in need of new approaches in material science that would offer affordable biodegradable and recyclable materials. Cyclic peptides are interesting for their use in biomedical applications: for example, as antiviral, antibacterial drugs. Nanotubes made from cyclic peptides were shown to be used as a drug-delivery system, channels for the transport of small molecules and ions, they also have potential use in organic electronics. A material based on such nanotubes that have a predetermined lifetime and properties tuned to a certain task is valuable for the temporal on-demand availability of those properties. It can also be used in bioengineering as a simple model system to develop more advanced setups with metabolic-like functions.
8. Marie Curie fellowship requires a lot of travels, why mobility is important for research?
Travel allows you to meet other scientists, see their approach to problem-solving, work, share your insights, learn from each other. Although in the era of the Internet long-distance communication became much easier than before, it is very useful to visit other research groups, get to know their environments, see together what should be improved and how. It is also a very powerful way to establish collaborations, that make research more efficient, critical, and up to date. Moreover, travel gives an excellent chance to broaden your knowledge about different cultures, see their values, get to know their lessons, all of which help you constantly question and reevaluate your principles and mindset.
9. How did you find your passion for chemistry?
I had an incredibly supportive chemistry teacher at high school. She encouraged interested students a lot, dedicated a large amount of effort and her personal time designing captivating projects, experiments, quizzes for those who wanted to learn a bit more than the school program had to offer. She also helped people to prepare for the final exams, making the whole studying process less stressful and hard. In this way, thanks to her strong spirit and endless enthusiasm, my initial curiosity grew into a confident desire to pursue a career in chemistry.
10. Do you have any advice for other young researchers who are considering applying for a Marie Curie fellowship?
If you don't mind traveling, living abroad, completely changing environments, are ready for challenges, eager to learn about the world and about yourself, applying for a Marie Curie fellowship might be a great idea for you. I think it was one of my best decisions, as the people I got to know and the experience I gained are truly priceless. Don't hesitate to ask others about their experiences and impressions from their time in ITNs, search online for more information, talk to your supervisors, and then decide what is the best for you personally.